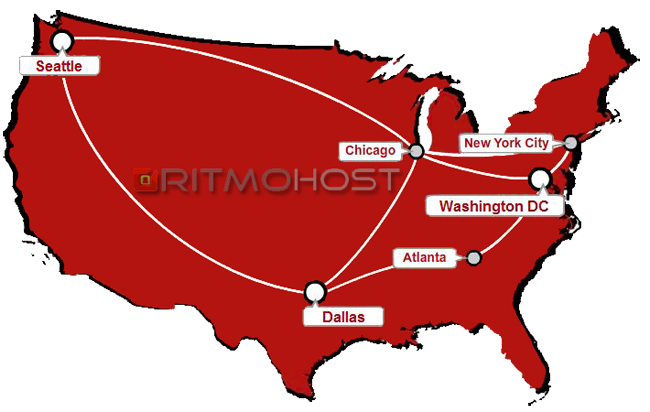 Dallas, TX, USA Infomart Datacenter
SAS 70 Type I certified (audit report available on request)
Dual-city grid power feeds, plus battery backup with automated transfer switch and on-site diesel generator
FM 200 server-safe fire suppression system with early pre-fire detection mechanism
Automatic temperature and climate control system with humidity and temperature sensors located throughout the facility
Biometric and key card security system including man-traps and rack level locking mechanism
Staffed 24x7 by SingleHop data center technicians and engineers and monitored remotely
&nbsp
Ping/Traceroute Test IP:
Data Center 1 - dallas1.ritmohost.com
Data Center 2 - dallas2.ritmohost.com
Our Cutting Edge Network
Our services are run on one of the largest IP backbones in the United States, taking advantage of mass availability of connectivity. We utilize multiple redundant 10Gbps links across our range of locations which are provided to us by the top 10 leading US network providers. We also utilize public peering links to a multitude of additional networks across the globe, ensuring you have the most reliable latency critical connection in the industry. In addition, our network is mapped through multiple points of presence (PoPs) across the greater United States, which allows us to provide you with a direct seamless high-speed connection to our backbone. You are able to choose the closest possible POP to your office and purchase a high-speed mWAN service and cross connections from such providers as Equinix and Telx.
Benefits of our Network
Multiple 10G Backbone Connections
Cisco Systems 10G Network
Cisco Guard DDOS Protection
Arbor Peakflow Traffic Analysis
Arbor Atlas Global Traffic Analyzer
Automated IP Routing and Management
Individual Secure Private VLANs
- Give us ability to add servers to Existing VLANs On-the-Fly
- Give us ability to add services to Existing Servers On-the-Fly
Gigabit Speeds from Server to Internet
Supports Dedicated, VDS, Grid Technologies
Geographically Redundant DNS
Featured Servers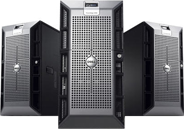 QuadCore Xeon 5520 - 2.26GHz (Nehalem) 1x8MB w/HT
3 GB DDR3 Registered 1333
10Mbps Public Networks
2000GB/mo Outgoing Xfer
250GB Sata II HDD
Self-Managed
Limited inventory available
FROM $415 per/mo

QuadCore Xeon 3450 - 2.66GHz (Lynnfield) 1x8MB w/HT
2 GB DDR3 Registered 1333
10Mbps Public Networks
2000GB/mo Outgoing Xfer
250GB Sata II HDD
Self-Managed
Limited inventory available
FROM $250 per/mo